1 in 6 students from India now going to Canada
Is this number big enough? Well, this is just half of the number of students who go to the US. So yes, Canada has emerged as probably the top choice for students for after the US – though in some cases, preference for some of the UK universities remains higher.
At MM Advisory, we release an annual report of overall numbers to the top countries where Indian students go every year. We do an overall who gained and who lost over several years to establish the overall trend.
Take a look at the chart below. In the past 5 years, Australia and UK numbers have dropped in total by about 64,000 students compared to previous years. Canada was the highest gainer, having increased students from India by over 41,500.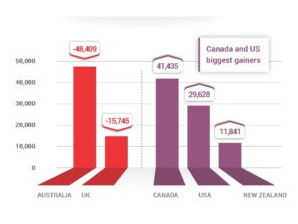 This was until 2015 – the 2016 numbers are even higher, and this year, the story is even more positive. As the political environment in the US has deteriorated, there is a drop in students looking at US universities as their first option.
Top universities and colleges in Canada are reporting nearly 50% increase in the number of applications compared to 2016. Australia still continues to get more numbers than Canada, but the gap is closing between the #2 and Canada, which is #3 in terms of overall student numbers from India.
There are two big reasons why studying in Canada has emerged as a strong preference in recent times for Indian students.
Lower cost of education than US
On average, US universities are more expensive by about 50% compared to Canada. The difference is largely in terms of tuition costs. This has always been a lesser known fact about Canada – the fees in colleges and universities have been much lower there.
Canadian institutions have never really marketed themselves strongly in India (though that has begun to change in recent years). So students and counselors never researched Canadian universities as serious options.
Studying in Canada is not only cheaper, but you have world-class options to choose from.
Canadian universities are world-class
Reuters just released the list of the Top 100 Most Innovative Universities globally. Two of the top Canadian universities are featured in this list, University of Toronto and University of British Columbia (UBC).
Here's a fact about UBC – it enrolls the third-largest number of international students in the entire North America including the US universities. And who gets the highest numbers? University of Toronto – which is also one of the most innovative universities globally (New York University gets more students than UBC).
So there you have it – not only are Canadian universities top quality, as attested by global rankings such as the Reuters, but they also score very high on their international students to domestic students' ratio.
1 in 4 students in UBC is an international student. That's higher than most US universities.
Higher ratio of international students also means better support systems for students from outside the country and better intercultural understanding and diversity.
So start researching more about options in Canada. Depending on your requirements and course preferences, there are over 100 universities to choose from, who offer over 400 different subjects.
If you are looking for advice on options in Canada, call us at +91 8527816109 or write to us at enquiry@mdotm.in.